Peru's celebrated chef, Pedro Michel Schiaffino, first visited the Amazon when he was 24. In an interview with Crave Magazine, he describes how this trip uncovered a new source of inspiration. The Amazon forest has become the source of inspiration for many chefs and culinary artists in South America. Schiaffino tells Crave Magazine:
"I continued to return to the Amazon and discovered it's not just a big pantry, but a vast region filled with rich, vanishing history and culture. After I became interested in the area as a food source, I started to learn so much more from the people of Amazonia."
The city of Iquitos plays a particular role in this.
is home to the indigenous tribes of the Amazon who have deep knowledge of the jungle's hidden gifts. The native population of Iquitos became a key source for chefs to explore new dishes and ingredients.
"First I may hear from friends in Iquitos or villagers along the river about an unfamiliar dish or ingredient. So I start asking questions," Schiaffino says. "I plan another visit, sometimes heading off on a speedboat for eight hours or more. The Amazon constantly offers up tastes and flavors I've never imagined before" (Crave Magazine Article available at:
https://cdn.aquaexpeditions.com/wp-content/uploads/2014/09/Crave-Magazine-Hong-Kong.pdf)
If you want to understand Amazonian cuisine, the local food market in Iquitos is a great place to start. The Belen market for example is a chaotic "behind the scenes" that restaurants chefs personally visit to select fresh ingredients harvested from the Amazon. Most restaurants in Iquitos either offer or specialize in traditional cuisine. The diversity of Amazonian cuisine is part of the charm of experiencing the city. It demonstrates the cultural appetite of the population of Iquitos. The food scene never seizes to amaze visitors and trying new things is the essence of this culinary experience. Here are 5 acclaimed traditional dishes from the Amazon that you must try of your trip to Iquitos.
1. Tacacho Con Cecina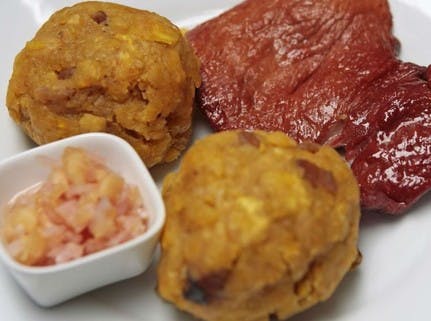 Image source: https://unarecetaperuana.com/tacacho-con-cecina/ (not labeled for reuse)
Tacacho is a typical and representative dish from the Peruvian Amazon forest. It is primarily made by plantains and pork and typically presented as in the picture above. The plantains are a type of banana from the Amazon. This type of banana is used for cooking (rather than eaten raw) and is present in many Peruvian dishes. The plantains are peeled and cooked with pieces of pork. They are then mashed, formed into a ball and fried. The chunky yellow balls are accompanied by two thin slides of dried smoked pork. The dish is often accompanied by creole sauce or chorizo (a type of pork sausage). Another usual complement is a sauce made from cocona, an exotic Amazon fruit. The dish might look a bit dry, but it is surprisingly moist.
2. Chonta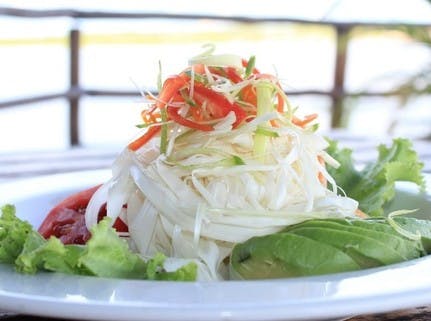 Image source: https://www.delfinamazoncruises.com/al-frio-y-al-fuego/top-5-must-try-amazonian-dishes/ (not labeled for reuse)
Chonta is an Amazonian salad named after its main ingredient. Chonta is commonly referred to as hearts of palm, as is the perfect dish to start a meal. It is made from peeled fresh chonta harvested from the jungle. The chonta strands are tossed in a vinaigrette sauce and assembled as pictured above. The salad is often served with fresh avocado and slices of tomatoes. A subtle yet memorable taste and texture. The salad is worth a try to make at home if you can lay hands on some fresh chonta and master the art of peeling it!
3. Ceviche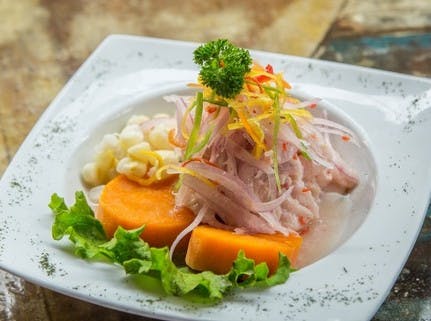 Photo by Pirata Studio Film on Unsplash
Ceviche is Peru's national dish and is offered in most eateries. The government of Peru named June 28th as the National Ceviche day in 2008 to honor this dish as part of national heritage. You can find Ceviche throughout Peru. The dish varies from city to city. It is primarily based of local fish like doncella, dorada and paiche with sauce and assortiments. Local tribes in the Amazon hunt the fish and sell them in the market to restaurants. Ceviche is likely to be accompanied by Yucca that balances the flavor of fresh fish.
4. Juanes
Juanes is one of the most popular dishes of the Peruvian jungle. It is named after Saint John the Baptist, patron saint of the Amazon. Saint John's birth is celebrated yearly in the San Juan feast on June 24th, and Juanes is the main dish of this celebration. Juanes consists of meat, rice, eggs and olives wrapped in Bijao leaves, a typical Amazonian ingredient. The Bijao leaves warp is initially a technique to protect the ingredients from humidity but evolved to be part of the dish itself.
5. Patarashca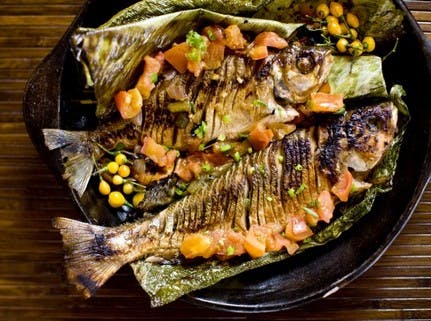 Image source: https://www.delfinamazoncruises.com/al-frio-y-al-fuego/top-5-must-try-amazonian-dishes/ (not labeled for reuse)
Requiring skill and time, the Patarashca is a crispy and tasty dish that is best enjoyed hot. It consists of a piece of fish, marinated in the aromatics of tomato, onion and chile sauce. The fish is wrapped in Bijao leaves while cooked to maintain its own fats. The scents of the leaf also infuse the fish with an aromatic footprint. The richness of flavor is a taste bud delight. The fish is often accompanied with slices of fried plantain.
The Amazonian cuisine follows the richness of Iquitos's culture. While often perceived as a stepping stone to the Amazon jungle, this city itself is true eye-opener to the contemporary lifestyle of Amazonian communities. Observing the people, experiencing the local markets and discovering the city's unique architecture are just a few recommendations from previous travelers who keep coming back to Iquitos for adventure and inspiration.
¡No esperes más para tu próximo viaje!