Dreaming of the cheesy spreads and rich caribbean flavors? Well this Caribbean destination has got you covered with its well liked and well known restaurants and street food delicacies. With a 3000 km shoreline of Colombia, Santa Marta is the basecamp to explore the further east coast and not only this, it is regarded as the food heaven for whoever looking to relish their taste buds on decorated platters. Santa Marta is the place where you can meet, eat and greet along with exploring the culture and local food customs. Here are the Viva Air top restaurants to visit on your next exploration trip to Santa Marta:
1. Donde Chucho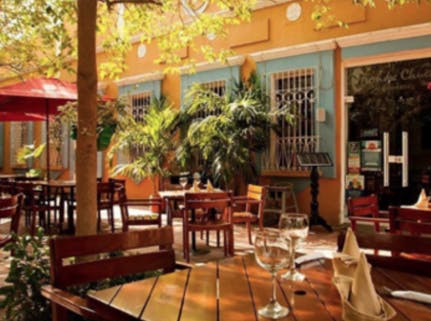 Located in the heart of the Rodadero, Donde Chucho is a saga in the seafood of the region. From their signature seafood gourmet dishes to authentic Italian food, the restaurant takes their shrimps and pasta seriously. With over six types of noodles and eight types of sauces to choose from, it truly provides a diverse gastronomical experience for those looking to try a fusion of Caribbean-Italian flavors. The service is relaxed, ambience is old school and food is carefully made to order.
Image Source: http://www.guiasybaquianos.com/en/blog/comer-en-santa-marta-restaurantes
Viva Air Tip:
It is highly recommended to try their very own signature dish- Ensalada Chucho served with a mix of shrimp, octopus, calamari and manta ray smoked in olive oil.
2. Rocoto Restaurante
Founded and run by a gourmet photographer and chef, Rocoto is genuinely a culinary delight. If you are tracing authentic Peruvian food in Colombia, Rocoto is the place to be. With an all new menu in place, Rocoto has recently been acclaimed by the top chefs in the region. Not only the Peruvian food does the magic, their pretty platters and gourmet presentation are worth your Instagram story. If you dare to experiment, Rocoto gives you a great opportunity to try their artistic works and new cuisines to treat your senses.
Viva Air Tip:
Their native Peruvian desserts like cocadas, cafongos and enyucados fused with unique flavors will keep you sorted for the day with a sweet treat to eat.
3. Restaurante LamArt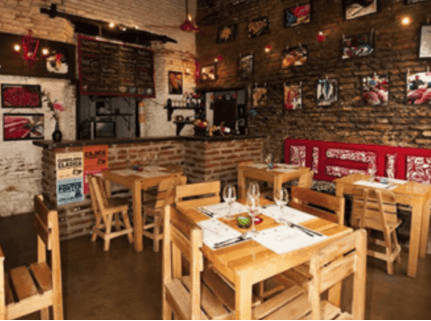 Witness the revival of the many ingredients at the enchanting LamArt. The very artsy restaurant has a vibe of its own and doesn't fail to mesmerize travelers who come for a sought after gastronomic experience. For a hungry and cultural soul like you, indulging in the scrumptious Thai and Spanish cuisine at LamArt will do the deal. From a delectable selection of ceviches,pastas and seafood, your hunger pangs will be kept at bay with an experience you won't forget. Restaurant is quite and artistic inside and the outdoor sidewalk seating is a bit more fun and communal.
Image Source: https://plus.google.com/118426025677247548478
Viva Air Tip:
The craft beers- Happy Tucan and Happy Coca resemble the vibes at LamArt or if you prefer to go sober, mojitos best complement the food here.
4. La Primera Restaurante & Bar
La Primera is a true reflection of Santa Marta's energy. Enjoy an international haute cuisine with a privileged sea view here. La Primera prides itself in its meticulous curation of Italian, French, Peruvian and Caribbean cuisines with a rich selection of seafood menu. The most interesting thing about this place is the crossover of a nightclub with a fine dining restaurant. You may also find the place turn from a elegant dine house to a party communion while you enjoy the sea view.
Viva Air Tip:
La Primera is known for its high standards and serves best in class seafood cuisine, so make sure to try their exceptional fish and seafood platter.
5. Caribbean Wings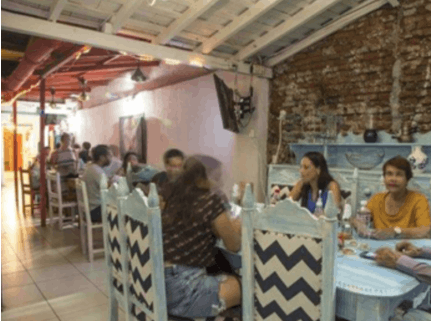 Last on our list is the budget culinary treasure, Caribbean Wings. From mouthwatering chicken wings to Caribbean soups, guests feel lucky with every bite they take at Caribbean Wings. Honed with lovely decor and old school artistic interiors, the staff is warm and food is absolutely made with love. Located in the historic city centre of Santa Marta, the place spreads its wings as the sun goes down with hip Caribbean music and people cheering and feasting all evening.
Image Source:https://www.tripadvisor.ie/LocationPhotoDirectLink-g297484-d7183931- i244791137-Caribbean_Wings- Santa_Marta_Santa_Marta_District_Magdalena_Department.html
Viva Air Tip:
To avoid missing out on the tasty morsel of the place, try the ever recommended barbeque wings and the ribs served with sweet and spicy Caribbean hot sauce
¡No esperes más para tu próximo viaje!