A Colombian staple diet strictly includes meat. Be it the arepas or the bandeja paisa, lean cut meat and sausages fill the platter. We don't deny the Pereiran's love for meat but that doesn't mean the city leaves vegetarians and vegans disappointed. In this feature, we bring to you 5 restaurants in Pereira that serve scrumptious vegetarian/vegan food making each dining experience an indelible one. These restaurants are close to the center of the city, making it a matter of comfort and ease to locate them.
Flor de Loto
The restaurant has a fixed weekly menus that doesn't change. They make lasagnas on a Saturday and paella and beans on another. It is popular in the region and known for its warm and courteous staff. In short, they make a vegetarian version of any dish.
Cuisine: multi-cuisine
Opening hours: Monday to Saturday, 12:00 PM to 6:00 PM
Cost for 2: Between 11.000 to 15.000 COP
Highlight: Bocadillo con queso, a dessert made of Guavas is worth a try
El Champinon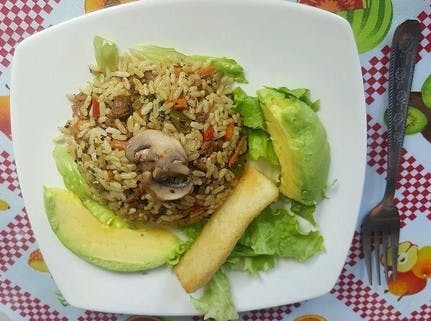 Curried vegetables and protein patties being the crowd favorite, El Champinon also has set menus every day. They source their ingredients fresh and dish out incredible dairy free recipes each day to impress your palate!
Image source: Happy Cow
Cuisine: Colombian
Opening hours: Monday to Saturday, 12:00 PM to 3:00 PM
Cost for 2: Between 11.000 to 15.000 COP
Highlight: They sell organic baby care products and host yoga classes and cooking classes once in a while.
La 23 Restaurante Vegetariano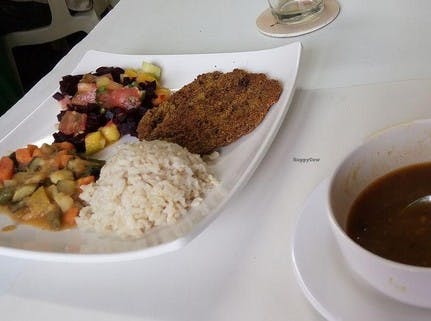 The restaurant has no boards outside and it is a very home-like set up where delicious and piping hot nutritious vegetarian food is served. With warm staff and flavorful food that's ready to hug you, give this place no miss. They have vegan substitutes for most dishes.
Cuisine: Colombian
Cost for 2: Between 10000 to 12000 COP
Highlight: The food is at the heart of this restaurant. So, we believe that's their highlight
Burger Green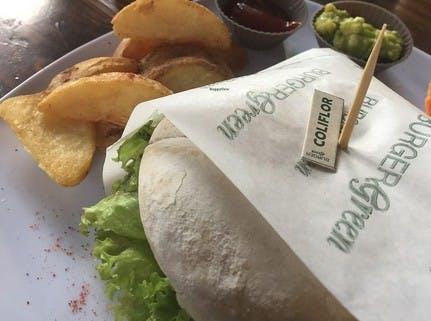 Burger Green is not completely a vegetarian restaurant, but has great options for vegetarians. Their cauliflower burger is a crowd puller and their vegan brownies are just another reason for you to visit the place. So far, this is our favorite pick on the list. Our recommendation for you is to pick one of their burgers or wraps and skip their salads.
Image Source: Happy Cow
Cuisine: American
Opening hours: Tuesday – Wednesday, 11:30 PM to 9:30 PM, Thursday – Saturday, 11:30 AM to 10:30 PM, Sunday, 11:30 AM to 9:30 PM
Highlight: It's a vegetarian restaurant that's open in the night
Semillas Comida Sana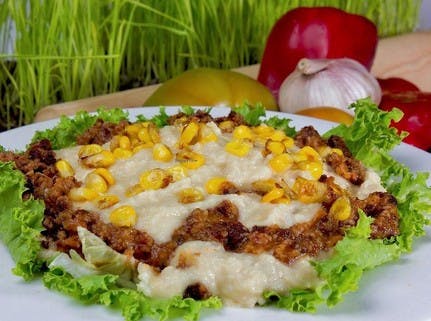 Semillas gives you plenty of reasons visit this establishment. With a set as well as an al-a-carte menu, this restaurant redefines Colombian food for vegetarians. The staff here ensure they know you and your food preferences before they serve you. The closest landmark to this restaurant is San Jorge Hospital.
Cuisine: Colombian
Opening hours: Monday to Friday, 9:00 AM to 9:00 PM, Saturday, 6:00 PM to 10:00 PM
Cost for 2: Between 18000 to 20000 COP
Highlight: On some days they have live music and that adds to the vibe of the place
¡No esperes más para tu próximo viaje!