As is mentioned in the overview for Chiclayo, it is a city that is immersed in great archaeological culture with many great sites in the surrounding areas and the Lambayeque region. Peru's northern coast hosts many famous Pre-Inca attractions that bring tourists who visit here even closer to the culture, rituals and traditions of this land's former inhabitants.
The sites that are in the immediate area of Chiclayo are seen along the coast but travelling as far as 3 hours along the coast to Trujillo will allow you to see more. Exploring the Northern coast of Peru, taking full advantage of your Chiclayo base will ensure that you see the extensive history. This is the best cultural choice you will make this year!
First, this tour can be provided through several local tourist boards. If you have rented a car from Hertz and enjoy freedom, then this is the map for you. Here is a quick glance of the drive facing you from Chiclayo to Trujillo, lengthy but worth it and let us here at Viva really tell you why.
"The Drive along Peru's northern coast is a straight forward and enjoyable experience".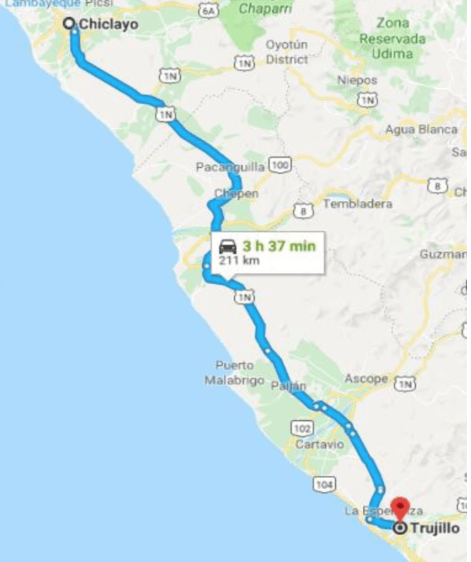 All the major archaeological areas are Included.
While on this trip from Chiclayo to Trujillo, via bus with a tour operator or by your rented car, you will pass all the major archaeological landmarks that the Lambayeque region has to offer. If you really want to "experience" the Lambayeque region this is defiantly the tour for you. The major landmarks already mentioned such as the Tomb of Sipan or the Tuccume Pyramids will all be explored on this trip. The standout however, is a destination that is located nearer to the latter part of the journey to Trujillo. It is the UNESCO world heritage site 'Chan Chan'. It is another major archaeological site in the region and is very popular among history enthusiasts. Chan Chan is a pre-Columbian city located 3 hours 40 minutes away, but it is worth the trip!
As well as all the sites accommodation can be provided at a price when you book through a tourist office. There are hotels to choose from to suit budgets of all kinds. In Chiclayo if you opted to stay in the Costa del Sol Wyndham, then we can happily tell you that they have a sister hotel located in Trujillo for your brief stay, meaning it is a perfect way to relax after a day of exploration. The Costa del Sol Wyndham is a five-star resort and is rated as the best hotel to stay in in both Chiclayo and Trujillo.
¡No esperes más para tu próximo viaje!