Are you looking for a fun holiday somewhere new and different? Then the island of San Andres is the perfect holiday destination for you. With an abundance of beaches, activities, and lively bars and restaurants at your door step, the only decision you need to make is where you are going to stay. As there is no shortage of accommodation on the island, Viva Air is here to provide you with some of the most central places to stay to make sure that you experience all that San Andres has to offer. If you long to be a part of the action and want to experience some fun in the sun while on holiday, this hotel guide is for you.
Decameron Isleno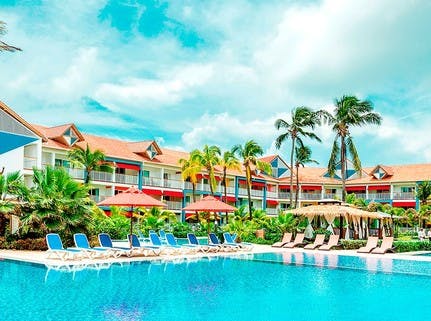 Stars: ****
Location: Av. Colon Calle 3ra N 6-106. Sector Spratt Bight, San Andres, San Andres Island, Colombia
Are you looking to stay at the center of it all? Located only a short proximity from the airport and opposite the breathtaking beach that is Spratt Bright, this destination can't be beat. Within walking distance of some of the island's best shopping, restaurants, and bars you will have everything at your front door. With Decameron Isleno's restaurants offering expansive menus of delicious cuisine and bars serving up tasty drinks, you will never want to leave this vibrant oasis. Spend the day by the pool sipping on tropical cocktails while mingling with friends and at night enjoy the live music of the island. Offering a great location, fantastic food, and impeccable service, you will be booking another flight to this beautiful island in no time.
Google Rating: 4.4
TripAdvisor Rating: 4.0
Hotel Casablanca
Stars: ****
Location: Avenida Colombia 1-19, San Andres Island, Colombia
This waterfront property is the perfect spot to stay when exploring the energetic island of San Andres. Located right on the beach and close to various water activities as well as some of the trendiest shopping destinations on the island, one can't compare. Wake up and enjoy a full breakfast in the chic Sea Watch Café. As you enjoy your meal take in the lively sounds of the island's traditional music as it plays in the background, all while you treat yourself to a glass of prosecco. You are on vacation, right? Home to some of the best restaurants in town, you can enjoy a selection of International, Colombian, and Italian cuisine. Adding to all of this is the exceptional staff, who offer outstanding service during your stay at this stunning oasis.
Google Rating: 4.4
TripAdvisor Rating: 4.0
Decameron Aquarium
Stars: ****
Location: Avenida Colombia 1-19 Isla de, San Andrés, San Andrés y Providencia, Colombia
Looking out at the sea of seven colors this all-inclusive resort offers much more than its extraordinary architecture. Located a short distance from one of the most popular beaches on the island and across from popular restaurants and exclusive bars, Decameron is very popular with visitors. Arrive at reception and be greeted with the sounds of the island as music fills the lobby. From the highly trained bartenders, buffets serving mouthwatering cuisine, and local bands performing at night you will never want to leave this tropical paradise. This hotel is known to be one of the best on the island and truly has everything you need to ensure that your holiday is a dream come true.
Google Rating: 4.4
TripAdvisor Rating: 4.0
¡No esperes más para tu próximo viaje!