Dreaming to break out from your daily dull routine and escape into a tranquil Caribbean paradise. If yes, you should read along to explore one of the most underrated paradises in South America.
Santa Marta, an up and coming coastal destination in South America is the quintessential getaway destination for your next great escape. Santa Marta is all about sun, sand, good food and relaxing vibes. Surrounded with jaw-dropping beauty, tropical jungles and snow-capped mountain ranges, it is a city with long stretch of beaches and unconventionally located resorts. Take time off your busy lives to come here to sit back, relax and rejuvenate in the hidden Caribbean coast.
Viva Air brings you the best places to visit on your next escape to the pearl of Colombia:
Trek in the Rainforests of the Lost City Ciudad Perdida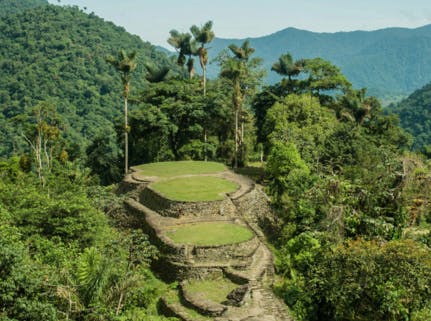 Image Source: https://mk0theadventuregfnyq.kinstacdn.com/wp-content/uploads/CP31-1-of-12-598×392.jpeg
Ciudad Perdida which translates to the lost city is an early settlement of the people of Tayrona tribe. Located in South East of Santa Marta, the lost city is amidst tropical rainforests with a lush cover of the jungle and can be accessed only by foot. The trek to the city is magnificent and goes along beautiful landscapes, rivers, waterfalls and is in the true sense a great escape into the lost settlements of Colombia. Approximately, the city was home to two to three thousand people. The city was discovered by Colombian archaeologists in 1970s and since then more than 25 such settlements have been discovered in the vicinity. Be ready to be mesmerized and hungover with the remote experience of this place.
Explore the fusion of Jungle and Ocean in Tayrona National Park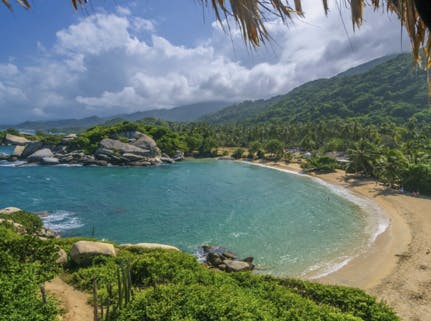 Image Source: https://www.lonelyplanet.com/colombia/caribbean-coast/parque-nacional-tayrona
Escape from the confines of urban settlements to the nature's magical creation, Parque Tayrona. Located 30 mins outside the main city of Santa Marta, you will find the the magical blend of dense jungle and clear blue waters washing away on gold beaches of Tayrona. The clear waters and the cold breeze blowing across the ocean makes the beaches of the park a perfect place for you to relax and sunbathe. Home to a diverse variety of flora and fauna, Tayrona National Park is a hub of majestic biodiversity and you can find various animals, insects, plants in the region. With the whole region being so breathtaking, it is totally Instagrammable and the sunrise and sunset at the park are not to be missed. The park can be easily explored on foot and generally has a small fee to access.
Dive Into the Lap of Nature in Minca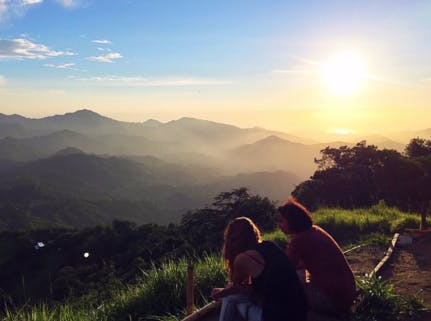 Image Source: https://scrimpsplurgetravel.com/wp-content/uploads/2018/04/IMG_0149-1-770×515.jpg
A few hours away from Santa Marta is the tranquil village of Minca. The temperate climate of the region coupled with the presence of various natural water reserves makes it one of the best places where you can relax and soak in the beauty of nature. Located on the foothills of the Sierra Nevada de Santa Marta, Minca is surrounded with coffee and cacao farms which is a great opportunity for you to visit and see the Colombian coffee harvesting with indigenous machines dating from the 1890s. You will also find natural pools and waterfalls around the city to cool off the Carribean heat. Packed with biodiversity, waterfalls and panoramic views Minca is a do visit place on your next great escape to Santa Marta.
Catch a Fish or Two in Taganga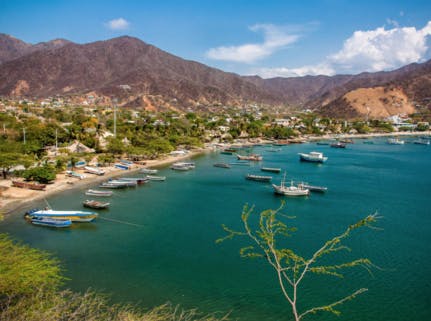 Image Source: http://www.guiasybaquianos.com/blog/como-llegar-a-taganga
To the North of Santa Marta is the small fishing village of Taganga with a population of approximately 3000 people centered around a small bay. Taganga is all about chill vibes, sandy beaches and scuba diving. If you are looking to escape into the underwater life of the Caribbean, Taganga has some of the best corals in around the region with loads of options to learn and try scuba diving. Recently, Taganga has been receiving a lot of tourists and if you want a bit quieter place to relax, you can hike to a Playa Grande which has clearer waters and less bustling tourists. There are plenty of pristine hidden beaches around the region and make sure to ask locals if they are safe to visit.
¡No esperes más para tu próximo viaje!