Enjoying a delicious meal while sipping on a Pisco Sour or a healthy tropical juice is the best way to finish a long day spent exploring the natural treasures of the surrounding area. Tarapoto has an abundance of excellent restaurants and offers a great variety of options, from Japanese- Peruvian and Chinese-Peruvian to Italian cuisine. However, to get the most of your visit to Tarapoto make sure to try some of the following typical regional dishes:
Tacacho con Cecina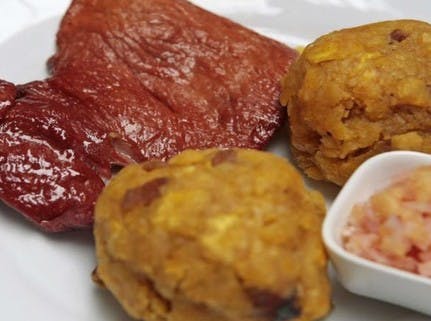 This delicious dish from the Peruvian Jungle is a mixture of flavours and texture. Cecina refers to the meat part of the dish, which is a piece of Peruvian style smoked pork, and Tacacho refers to the tasty balls of mashed up green plantain (cooking bananas), which act as a companion to the meat. Tacacho can also be eaten by its own or with regional sausage or vegetables and traditionally it was a dish to be enjoyed early in the morning. Although the main ingredient is green plantains it is important to note that it is not a vegetarian/vegan dish, even if enjoyed without Cecina. The reason for this is that the plantains are generally mixed with pork lard, before being formed into balls.
Source: https://cocineroperu.com/como-hacer-tacacho-con-cecina-y-ensalada-de-cocona/
Where to try it?
As this dish is very popular in the area, you will have no problem finding it in any restaurant offering regional dishes and even at street grills, if you would like something quick when you are on-the-go. However, if you are in Tarapoto, why not try it in one of the city's most emblematic restaurants? In La Collpa, you will not only have the possibility to enjoy excellent Tacacho con Cecina and other regional dishes, but you will also enjoy it with an amazing panoramic view to the jungle.
Patarascha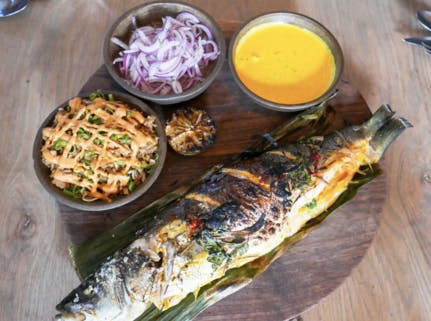 This typical dish from the jungle region originated from the ancient inhabitants and is a relatively light meal, made from local fish, which is wrapped in a banana leaf and is baked, boiled or roasted. Condiments are also served with this delicious dish to create a well-rounded, flavourful meal, which is a great dinner option for more health-conscious people who would like to avoid some of the heavier options from regional cuisine.
Source: https://www.flickr.com/photos/loustejskal/35842428833
Where to try it?
A perfect place to try this dish in Tarapoto is a restaurant with matching name, such as La Patarascha. This woody restaurant, with its open sides will make you feel like you never left the rainforest, making it the perfect place to try Patarascha or any other regional dish.
Inchicapi:
Source: https://www.yanuq.com/foto.asp?foto=images/fotos/inchicapi.jpg
Whether you are choosing it as an appetizer or you are simply a soup lover, this creamy soup of the Amazon is definitely one to try while in Tarapoto. Commonly enjoyed in the area, it is prepared from hen/chicken, garlic, corn, cilantro leaves and a number of other ingredients and spices.
Where to try it?
Similarly, to the previously mentioned dishes, this soup is very popular in the area, therefore most restaurants offering regional cuisine should serve it.
Vegetarian/Vegan options
Source: https://www.cilantroandcitronella.com/patacones-or-tostones-fried-green-plantains/
Unfortunately for the vegan/vegetarian visitors of the country, Peruvian cuisine is very much meat or fish based, therefore enjoying the world of authentic Peruvian cuisine can be a bit of a challenge. If you visit Tarapoto as a vegetarian/ vegan you may think that you will have to stick to fruits (which wouldn't be too bad with the amazing range of fruits available in the area), but don't worry! There are some traditional Peruvian food options to enjoy that are vegetarian or even vegan friendly and there is also an increasing number of restaurants/ cafes focusing on vegan/vegetarian dishes. One vegetarian friendly dish, for example, which is a great substitute to the previously mentioned tacacho, is Patacones. These are also made from green plantain and although are not necessarily the healthiest due to being fried, they are certainly very tasty and perfect to eat as a side dish or by themselves as a snack.
Where to try it?
Some of the vegetarian and/or vegan friendly restaurants in Tarapoto include: Zygo Café, Savia Madre and Suchiche Restobar.
¡No esperes más para tu próximo viaje!


¡No esperes más para tu próximo viaje!