Pereira is one of the key destinations in the coffee axis and produces some of the world's best coffee. The Arabica is sweet, a perfect breakfast brew and the one that puts Pereira on the global map! Pereira is internationally regarded for its strong aromatic coffee and insightful coffee tours; however, Viva Air would also like to highlight some of the other beverages and drinks this fascinating city has to offer.
Colombian hot chocolate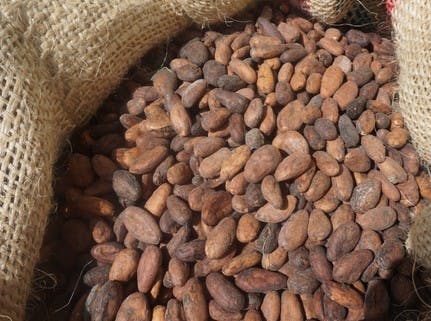 In Colombia, hot chocolate is unlike anywhere else in the world. You don't tear up tetra packs or uncap plastic bottles here; Instead, you break fresh cocoa yourself, bringing it from the case to the cup! Chocolate is a lot like coffee. It involves a number of steps in production, however, when you sip on hot chocolate in Colombia, it is 100% cocoa blended with sugar cane syrup or what's known as panela and diluted with water or milk. A traditional Pereiran breakfast is not complete without a cup of this piping hot beverage.
Where to find it?
Most B&Bs and lodges produce their own chocolate and use it in the preparation of hot chocolate. But while you are in the city, a brand that cannot fail to impress you is Cacao Puro Del Choco, which is 100% pure cocoa, handmade, premium and ready to be prepared. Pick it up in most grocery stores in Pereira City Centre.
Taste
Give your breakfast coffee a miss and sip on this heavenly potion. You won't regret it!
Source: www.perieracityguide.com
Chicha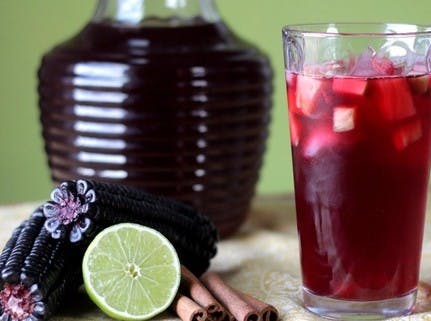 Beer is consumed the world over and comes in many varieties. The beer of choice here in Pereira is Chicha. This corny drink is iconic and synonymous to the Colombian and Peru regions. People have been drinking this for thousands of years and it is said to be an acquired taste. It's either made of purple maize or yellow maize and it is fermented to create the liquor.
Where to find it? If you're adventurous, then local brew Chicha is something you will find at street corner vendors all over Colombia. If you want to play it safe however, then make sure you order the Club Colombia brand of Chicha, available in bars and restaurants all over the country.
Taste
You may not like it the first time you try it, as it's an acquired taste, so give it some time.
Aguardiente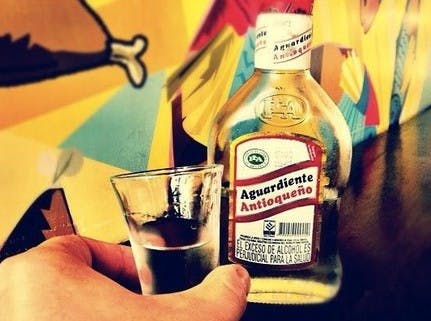 Aguardiente is a Quechan word that loosely translates to burning water. It's made of a combination of star anise and sugar. It's a staple liquor loved by the locals and tourists alike. With 29% alcohol content, it might not be the strongest liquor you've ever tasted but trust us, it's strong enough.
Source: speakinglatino.com
Where to find it?
Aguardiente is found in every liquor store and each state has its own brand, however, based on a test conducted by www.theunconventionalroute.com, Amarillo de Manzanares is the best brand and a great souvenir from your stay in Colombia.
Taste
This is very subjective and Aguardiente from different brands taste different. It's mostly a fruity and woody taste with a slight after-burn and is usually consumed as shots.
Hervido de Piña Nariñense (Colombian Pineapple Hot Drink)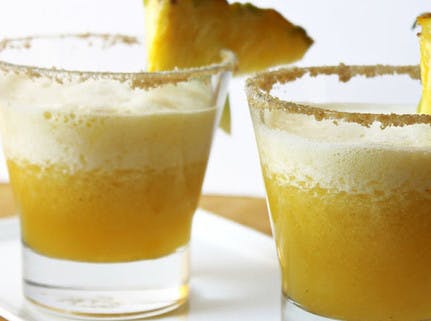 Put those Pina Coladas to rest and try the Colombian version of the cocktail, served warm. It's a perfectly balanced drink that brings together the fruity punch of pineapple and peaches together with the undertone of the stinging Aguardiente. Sip on this crazy tipple and get a taste of summer, any time of the year.
Source: www.quericavida.com
Where to find it?
You'll find it in practically every local cafe and pastry shop in Pereira. A generous spread of empanadas and endless rounds of hervido, now that's a cosy afternoons meal.
Taste
The tropical fruits dominate the taste and hide the taste of the strong liquor.
Forcha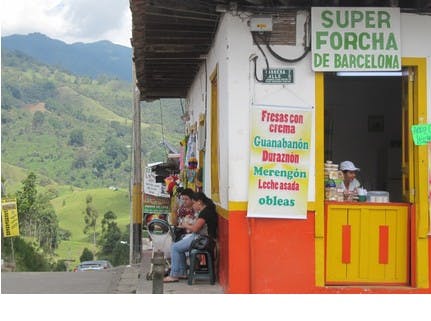 Forcha is a non-alcoholic drink that's creamy and made of flour, sugar syrup and banana flavouring. The dense banana texture gives this drink an authentic touch. It's a sweet drink that is unique to the land and the one you may want to sip, on a sunny day!
Source: Hugo Pardo Kuklinski (License Free)
Where to find it?
Forcha is a drink that you can buy literally anywhere, from street vendors to the corner stores, with many displaying signs for this popular refreshing drink.
Taste
Fresh, dense and a tad sweet.
Salud!!! (because a Pereiran drink deserves a Spanish toast)
¡No esperes más para tu próximo viaje!