South Beach is known for many things aside from the its stunning beaches. It's a place that's alive 24 hours a day, where people go to relax and party in equal measure. You can experience the glamour and culture of the city's early to mid-20th century past along with the vibrancy of a city looking to the future. It also has some of the most interesting Art Deco buildings in the US and many are now luxury boutique hotels that cater to the many visitors to this vibrant neighbourhood. Check out the Viva Air Top 10 Boutique Hotels in South Beach.
1. The Miami Beach Edition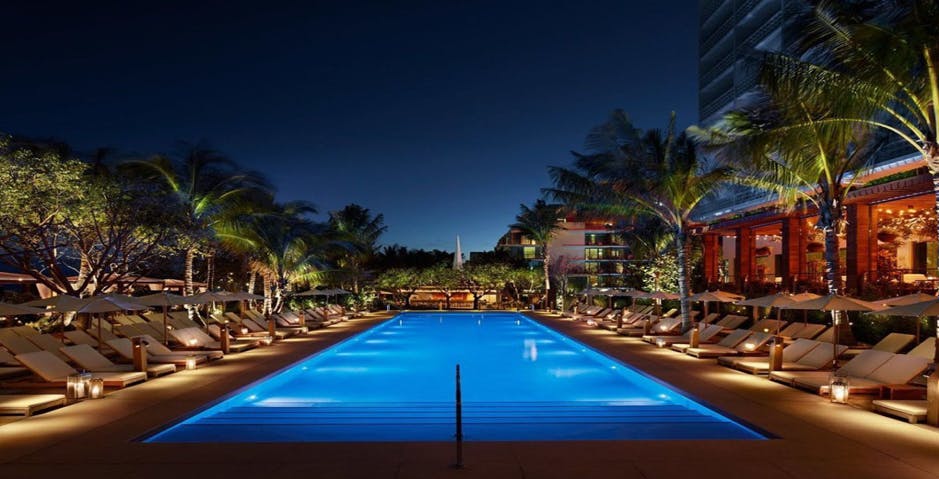 Source www.amoma.com
The Miami Beach Editions is a 3.5-acre resort style hotel located at South Beach. Described as a luxury boutique hotel, it also has a unique basement complex that houses a nightclub, bowling alley and 2,000 square foot ice skating rink. If its relaxation you're after, then head to the onsite spa or why not lounge by the 1950's inspired pool deck. The hotel also has 70,000 square foot of shoreline on South Beach for you to enjoy. While it has a sense of classic 1950's luxury, it doesn't miss any of the mod cons and guests can retreat to their room where you'll find rainforest showers, flat screen TV's, bluetooth speakers and of course free Wi-Fi.
TripAdvisor Rating: 4.5
Google Rating: 4.6
2. One Hotel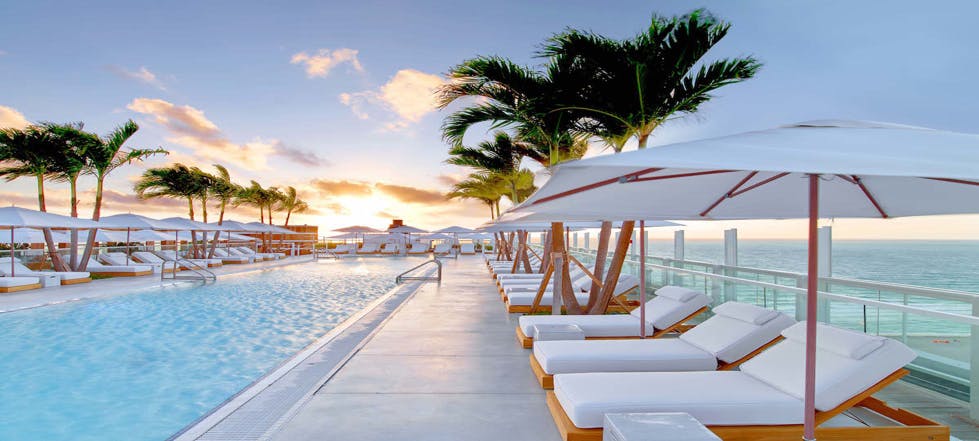 Source www.miami.com
One Hotel is an eco-friendly property that was designed for comfort using reclaimed materials. With a stunning Art Deco frontage, this 4-star hotel is suitable for couples and families alike. The focus of this hotel is very much on daytime activities, sitting directly on the seafront with sublime ocean views and two stunning pools that boast 70,000 square foot of decking space. Every bit as stunning inside and with very sizeable rooms the One Hotel is the perfect location for sun lovers, young lovers or family vacations. If its nigh time activity you're after, then you're only minutes away from some of the best night time action in the city.
TripAdvisor Rating: 4.5
Google Rating: 4.6
3. The Betsy

Source www.thebetsyhotel.com
Most of the hotels on South Beach feature Art Deco architecture and style, however, the Betsy stands out with a Georgian flair. The Betsy also offers some charming little touches such as a bookmark with poems left on your pillow, in lieu of chocolate and each of the 61 rooms has a small library. This charming luxury hotel is very focused on culture and has been described as combining beachy décor with the elegant atmosphere of a gentleman's club.
TripAdvisor Rating: 4.5
Google Rating: 4.5
4. COMO Metropolitan Hotel

Source www.comohotel.com
Located along the quieter part of South Beach, the Art Deco COMO Metropolitan hotel caters for traveller who want to be close to the action without the noise. The food at the COMO is often a highlight for many guests, with locally sourced seafood a speciality. This hotel attracts a lot of upscale clientele and primarily couples looking for a getaway in South Beach.
TripAdvisor Rating: 4.5
Google Rating: 4.5
5. The Redbury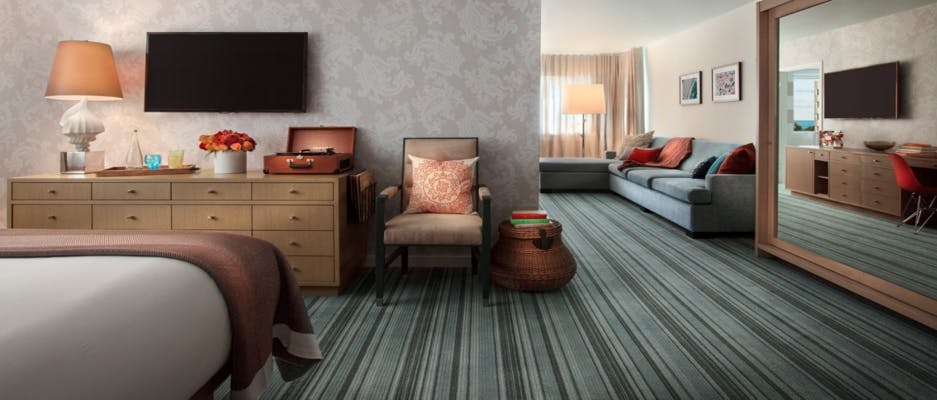 Source www.theredbury.com
The Redbury is also a stunning Art Deco hotel in South Beach. The 69 rooms all feature rainforest showers and separate soaking tubs. Each room also has a record player and small vinyl collection that adds something a little special for visitors. If that doesn't make you want to stay at the Redbury then the 12,000 square foot rooftop pool and chillout area just might sway you.
TripAdvisor Rating: 4.5
Google Rating: 4.2
6. Dream Hotel

Source www.dreamhotels.com
Built from the shells of two Miami Art Deco icons, the Tudor Hotel and Palmer House, the Dream South Beach Hotel really lives up to its name and has been described as the last word in dreamy opulence. Located in a great position on South Beach you'll find that many of the hotel's 108 rooms are bathed in atmospheric blue light. Described on the hotel's website as a sexy fashion inspired boutique lodging that proves style and service don't have to be mutually exclusive. At the Dream hotel, they take guest comfort to another level in terms of furnishings and the latest mod cons.
TripAdvisor Rating: 4.5
Google Rating: 4.2
7. Kimpton Surfcomber Hotel

Source www.ikg.com
The Kimpton Surfcomber Hotel is a very popular and trendy Art Deco hotel situated at the heart of Miami's South Beach and within walking distance of Ocean Drive and Lincoln Road Mall. In line with the Kimpton brand signature amenities, they offer pet friendly accommodation, daily complimentary coffee and the ever-popular wine hour every evening. As with all the hotels featured, customer comforts are taken very seriously with all the comforts and mod cons one might expect from this fantastic hotel.
TripAdvisor Rating: 4.5
Google Rating: 4.1
8. The Gale Hotel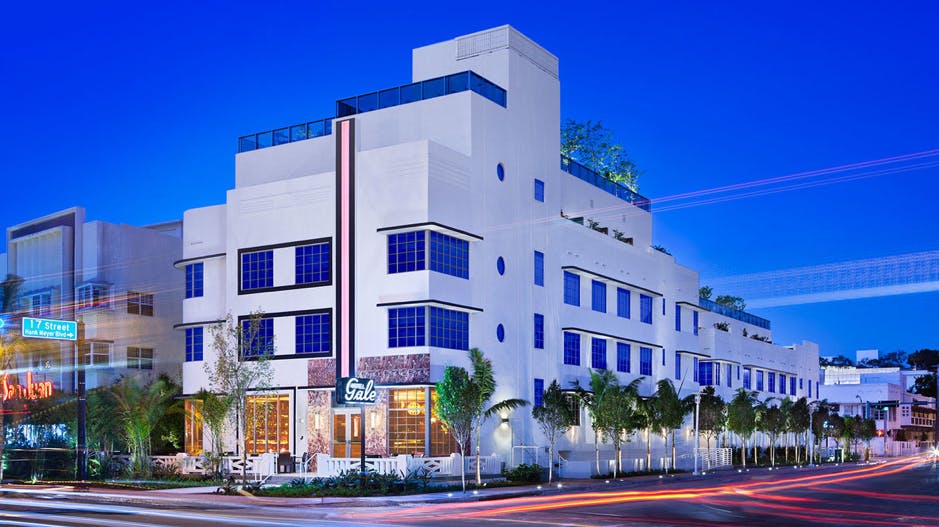 Source www.galehotel.com
The Gale Hotel reopened in 2012 and honours the glamourous era of the 1940's with this beautiful 87 room Art Deco building. The walls of the rooms adorn black-and-white pictures and the rooms a decorated in beachy blue and white. If you're looking to relax in the sun, then head to the rooftop pool and bar that serves speciality cocktails and at night you can try the hip 80's style basement nightclub.
TripAdvisor Rating: 4
Google Rating: 4.2
9. Vintro Hotel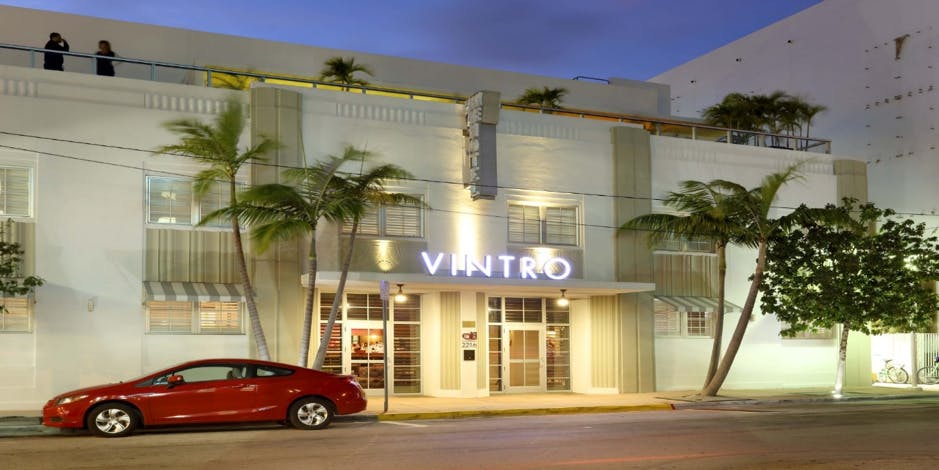 Source www.travelweekly.com
A little further back from the beach is the Vintro Hotel. Its 50 rooms are furnished in retro citrus tones with flat screen TV's expresso machines and rainfall showers. It may be a little back from the beach, however, with complimentary bike rental, you'll be at South Beach or Ocean Drive in no time at all.
TripAdvisor Rating: 4.0
Google Rating: 4.0
10. Washington Park Hotel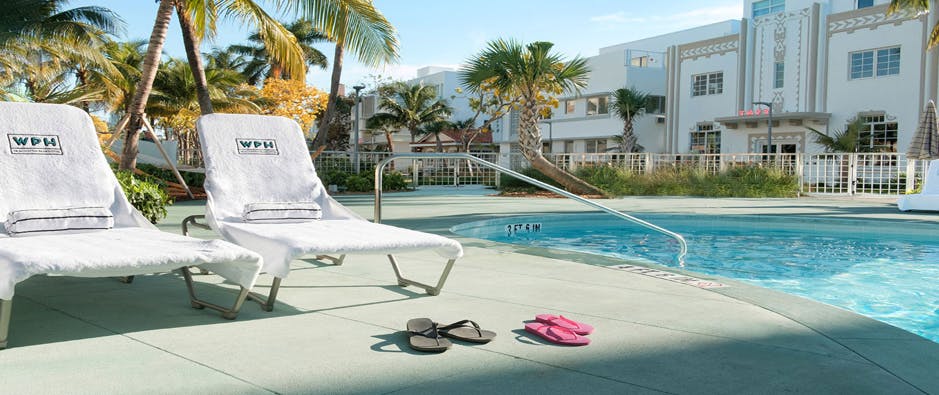 Source www.wphsouthbeach.com
The Washington Park Hotel is made up from a cluster of Art Deco buildings that take up an entire block and is located right in the heart of the action at South Beach. It doesn't matter what you want from South Beach, you are only steps away from everything. The hotel's main lobby is home to a moodily lit Swizzle bar with each of the buildings that make up the complex offering their own amusements, from throwback retro video games to a small gym. It's also home to the hugely popular Employees Only Bar.
TripAdvisor Rating:4.0
Google Rating: 3.9
¡No esperes más para tu próximo viaje!