Viva Air makes it easy for you to find the most popular spots to enjoy your evenings with the whole family! Whether it's seeing the beautiful lit up attractions or indulging in a chocolatey dessert, after dinner, Bucaramanga will ensure your evenings are well spent. Below are the top 5 places that we at Viva Air recommend for you to spend your evening.
Cathedral of the Holy Family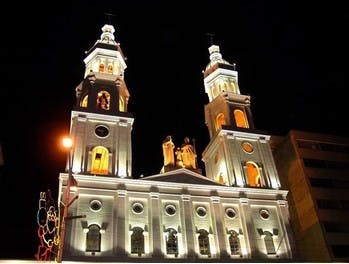 Google Rating: 4.7
TripAdvisor rating: 4.5
This iconic piece of religious architecture is one of the most significant cathedrals in Bucaramanga. With its stunning stained-glass windows and impressive façade, people visit this sacred building to admire the architectural features and capture photos. Located amid a busy plaza, the Cathedral of the Holy Family creates a remarkable atmosphere at night when lit up, highlighting its beautiful design and features.
Cathedral of the Holy Family at night – Source Pinterest
Puente del Bicentenario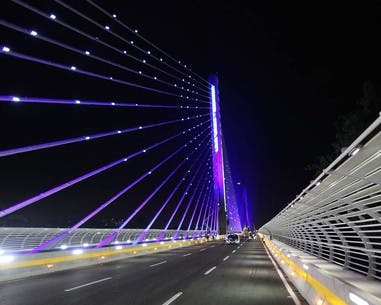 Google Rating: 4.7
TripAdvisor rating: 4.5
Puente del Bicentenario is an aesthetic bridge that is transformed in the evening time when it is lit up, urging tourists to come and marvel at the amazing multi-colored lights. Just a short drive from the center of the city, it is a must-see attraction. One of the most beautiful bridges in all of Colombia.
Puente del Bicentario at night – Source: TripAdvisor
Parque del Agua

Google Rating: 4.6
TripAdvisor rating: 4.5
This park is an ideal place to relax and unwind after a fun-packed day of exploring the city of Bucaramanga. The beautiful lights transform the park, making it magical to walk around at night. Don't miss it during December, where there are Christmas themed light shows and activities for the whole family. Inside the park you will find plenty of food stalls, along with fish tanks, turtles, and magnificent flower displays. Feel close to nature and enjoy the entertainment that the park has to offer. Highly recommended!
Crepes and Waffles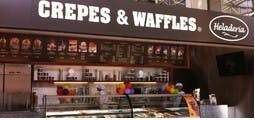 Google Rating: 4.7
TripAdvisor rating: 4.5
This chain of restaurants is one of Bucaramanga's favorites to indulge in delicious crepes, ice cream, and desserts! Just what you deserve after a day of exploring this wonderful city. They are scattered throughout the city, so you are bound to pay a visit at some point. The restaurant was awarded TripAdvisor's Certificate of Excellence three years in a row for its continuous great reviews and customer satisfaction. Its fast service and inexpensive prices make the experience, all the more enjoyable. Why not sit outside and watch the sun go down as you revel in the rich flavors of the various desserts, which appeal to everyone's taste buds. The waffles with chocolate, banana, and ice cream is a must-try. Absolutely delicious!
Crepes & Waffles – Source TripAdvisor
Kakahuat Chocolateria & Pasteleria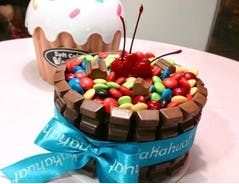 Google Rating: 4.7
TripAdvisor rating: 4.5
This quaint little pastry shop serves delicious desserts and coffee, which is the perfect treat for after your dinner. It was TripAdvisor's Certificate of Excellence winner in 2017 and for obvious reasons. It boasts an exciting atmosphere to share with good company, with unique treats that will have you coming back for more. The presentation of the desserts is almost as good as the taste, and the service is spectacular. The chocolates from Kakahuat are a great gift to bring home to family and friends, with high quality, perfect detail, and beautiful packaging.
¡No esperes más para tu próximo viaje!