Finding new spots to eat is one of the best parts of being away on vacation. However, as most families traveling with children know, dining out with the entire gang can be quite a challenge. Specifically, the search for finding a place that everyone approves of, this is even more real when you are on holiday and aren't familiar with area. Luckily for those packing their bags and heading to the spectacular island of San Andres, there is an abundance of family-friendly options for you and your loved ones to enjoy. From restaurants located on the beach to local spots offering extensive menu options, San Andres has it all. To take the stress off so you can enjoy your time relaxing in the sun Viva Air has put together a guide of family-friendly eateries that are guaranteed to be loved by children and adults alike.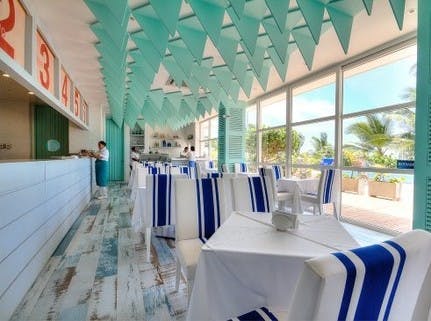 Sea Watch Café
Located in Hotel Casablanca the Sea Watch Caffe is open from 7:00 am making it the perfect place for breakfast, lunch, or dinner. Here you can enjoy a full breakfast of tropical fruits, omelets, as well as juices or why not take a break from snorkeling and grab a quick bite of a delicious hamburgers or pasta. With more options than you can imagine, this waterfront restaurant is sure to have something on the menu to suit everyone. You won't have to travel far from lounging on the beach as the Sea Watch Café is located right next to it.
Google Rating: 4.4
TripAdvisor Rating: 4.0
Miss Celia
Located in the center of town and just walking distance from one of the Island's main beaches, this charming restaurant is perfect for the entire family. The laid-back ambiance and colorful décor make it the ideal spot to unwind after spending a day at the beach with the kids. This eatery serves up the traditional cuisine of the island, so make sure you try the Rondon and coconut lemonade, while you are here. Not only is the food both delicious and fresh, but it is reasonably priced. That paired with exceptional service makes for a perfect night out on the island with loved ones.
Google Rating: 3.8
TripAdvisor Rating: 4.0
Donde Francesca
This is the ideal place to try when you want to soak up the sun on the scenic shores of the island. On the peaceful sands of San Luis, this restaurant is the definition of a seaside paradise, serving fresh seafood with breathtaking ocean views. Its energetic atmosphere and bright décor make it a favorite among visitors. Guests can feel the island breeze as they indulge in mouthwatering Caribbean cuisine. One of the best things about this restaurant is that you have the choice to either reserve a table or eat on the beach, allowing you to dine while hanging out on the beach comfortably with your kids.
Google Rating: 4.3
TripAdvisor Rating: 4.0
Seaweed
Don't let the size of this colorful little restaurant fool you. This remarkable spot offers up a variety of food in a vibrant atmosphere combined with bright décor. From their fresh juices to pizza, you can't go wrong. Make sure to try the ceviche here as they are known for having some of the best on the island. The staff a very accommodating and are willing modify the menu to suit your dining preferences, if need be. There's always one picky eater in the group making this the perfect place for the entire family.
Google Rating: 4.6
TripAdvisor Rating: 4.5
¡No esperes más para tu próximo viaje!