With a great escape comes a great amount of hunger'. The oldest city in Colombia has some of the best places relish your food cravings. Santa Marta not only offers Colombia's finest tastes but has plenty of international restaurants, street food hideouts in the majestic Sierra Nevada. Great food and friendly people is the least you can expect from this city.
For your next South American getaway, Viva Air brings you the top five culinary heavens to visit in Santa Marta.
1. Ouzo Restaurante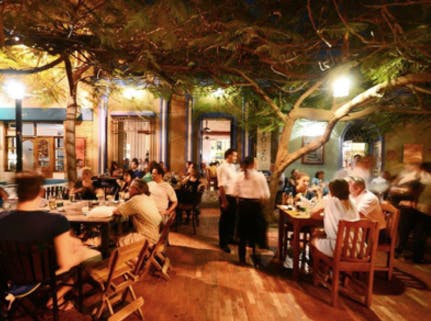 The bumbling area of Parque de los Novios is where Ouzo Restaurant is located in. Ouzo is a beautiful mix of lively and relaxing atmosphere perfect for a delectable experience. The Mediterranean inspired menu at Ouzo offers a range of heart filling and savory dishes that you may find yourself overwhelmed with the choice of Greek and Mediterranean Palates.
Image Source: https://theculturetrip.com/south-america/colombia/articles/the-top-10- restaurants-in-santa-marta-colombia/
Viva Air Tip:
The wooden-fired pizza is a must order whenever you are at Ouzo which also happens to be the best in the city. For the daring individuals, the slow cooked octopus is something you would definitely enjoy.
2. Ikaro Cafe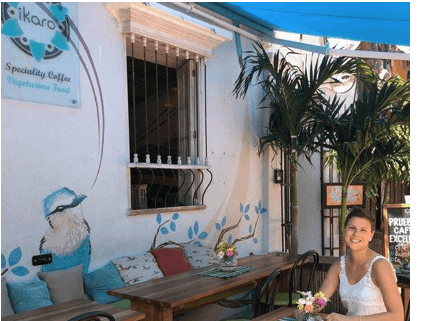 The coziest cafe of Santa Marta is a coffee heaven for the true caffeine heads. The coffee here is sourced straight from their neighboring organic farm located in the Sierra Nevada de Santa Marta. The place offers some of the best craft beers and has the essential vibes to kick back and admire the vertical gardens and cool ambiance. Needless to say, the staff are super friendly and attentive when it comes to serving their guests.
Image Source: https://foursquare.com/v/ikaro-cafe/54b07fb1498e5ae363039cf8/photos
Viva Air Tip:
Apart from their specialty coffee roasting, Ikaro' menu boasts of a variety of Thai, Vietnamese and Colombian tastes and if you are a vegan, their multiple vegan cuisines have got you covered.
3. La Canoa Cafe Restaurante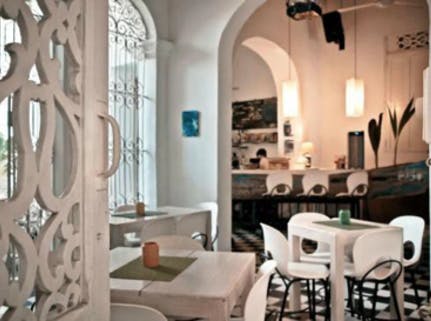 If you like are looking for best of both worlds, then there's no better fusion than La Canoa's French pastry and Caribbean bistro. The abundant menu at La Canoa is a blend of authentic French ingredients with local flavors. The cafe's pleasant atmosphere adds to the experience
with chic art pieces all over the walls. Also, make sure to catch their cultural evening nights for an enhanced experience.
Image Source: https://www.cartagenatravel.com.co/content/la-canoa-caf%C3%A9-cultural- santa-martacolombia
Viva Air Tip:
Their super delicious pastry and paninis with jams which are made from homemade products are what we highly recommend on your visit to the French Caribbean eatery.
4. Restaurante LamArt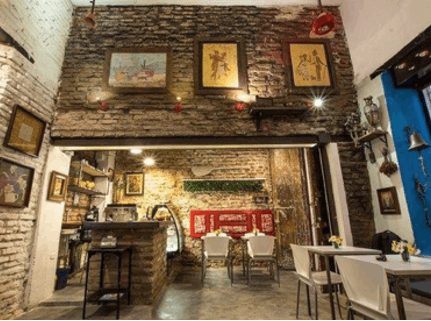 If you have a hard to satisfy stomach then LamArt could be the place for you to try their never-ending menu of various cuisines. Located in Callejón del Correo, one of the most fascinating areas of Santa Marta is the hub of spicy Colombian dishes. You can either enjoy your food on their cheery streetside or hide in their artistic interiors.
Image Source: https://www.tripadvisor.ie/Restaurant_Review-g297484-d2303775-Reviews- Restaurante_Lamart-Santa_Marta_Santa_Marta_District_Magdalena_Department.html
Viva Air Tip:
The best time to experience LamArt's flavor is in the morning with their filling fruit sauce pancakes and fragrantly brewed coffee.
5. El Bistro
The last pick on our list is the legendary Bistro. The old charm of this place will take you straight to ancient Colombia. The ambiance at Bistro is old school romantic and menu has a strong Caribbean influence. Located in the heart of the old town Santa Marta, you can get the widest seafood menu you can imagine with the best french ingredients on your plate.
Image Source: https://www.tripadvisor.ie/Restaurant_Review-g297484-d2519418-Reviews- Restaurante_El_Bistro-Santa_Marta_Santa_Marta_District_Magdalena_Department.html
Viva Air Tip:
El Bistro celebrates regular happy hours from 5pm to 7pm, which is also the best time to explore and try their ever demanded pizza. Ordering tenderloin steak and cut meats are some of the mainstream dishes you can never go wrong at El Bistro.
If you still feel like there's more to the experience of Santa Marta, make sure you try the tasty street foods in Parque de los Novios and Carrera 3 street which is sure to fulfill the last bits of your Colombian food experience.
¡No esperes más para tu próximo viaje!