Bogota has many places to choose from when looking to sit back and relax and enjoy a drink. While out exploring the city of Bogota take some time out to try out some of these recommended bars.
VÉRTIGO WINGS
If you are interested in having a fun night with decent drinks the VÉRTIGO WINGS is the perfect place for you. This place is situated in Cl. 147 #7A 57, Bogotá, Usaquén, Colombia.. There is also a menu available on the website if you want to check out the fun dishes the pub serves. The pub serves wings in sauces of five different spice levels and are the perfect accompaniment with a cold beer. The meal prices can range from COL$10,900 to COL$149,000 depending on your budget. The pub also serves craft beer, cocktails and has national and international beers. You can find more information on their website here http://vertigopub.com/.
The pub is open 7 days a week with late opening on a Friday and Saturday night. The pub also hosts events such as Ladies Night, Beer Tasting and there is live music every Friday.
Beer Parque La Colina
Beer Parque La Colina is another hotspot that would be a great place to add to your list of places to drink in Bogota. The pub is situated in Parque La Colina shopping center Cra. 58d # 146 – 51, Bogota Local 334A and is open 7 days a week. You should keep note of the different opening times though, as the pub is open 11:30 am 12:00 pm from Sunday to Wednesday and 11:30 a.m. 3:00 a.m. from Thursday to Saturday. The pub hosts beer games every Thursday at 4pm. You can find more information on their website https://www.pub-beer.com/parquelacolina.
The pub offers a unique beer tasting experience with premium beers and cocktails if you are feeling fancy. The pub has several locations in Bogota already and will continue to expand. It is highly regarded on Google with 549 reviews and a star rating of 4.4 out of 5.
Joshua Café Pub Restaurant
Joshua Café Pub Restaurant is the place to visit if you want to try a range of artisian beers
It is situated in a 96-33, Dg. 72 # 96-1, Bogotá, Colombia. The pub was named after the Irish band U2's album The Joshua Tree. If you want more information about the pub you can visit its website by following the link http://joshuacafebar.com/web15/historia/. The website provides an online menu featuring recommended drinks such as Club Colombia, Baltika and Warsteiner. The establishment is in multiple locations; in Bogotá, Cali, Neiva, Pereira and Cartagena. Live entertainment can be enjoyed most nights of the week.
Bogota Beer Company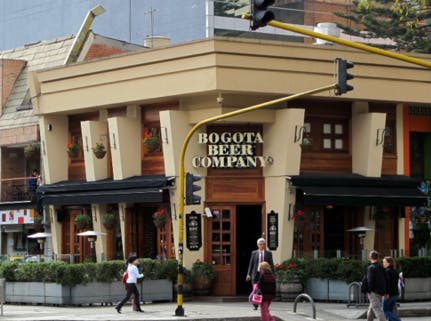 Lastly Bogota Beer Company, can't be missed when visiting Bogota. It is the biggest microbrewery in Colombia. The pub is situated in Ak. 19 ##139 – 07, Bogotá, Colombia. The pub is considered to be a trendy spot when looking for something eat with a beer. The pub also offers a brewery tour, transport is convenient as you can be collected at your hotel and when you reach your destination you can try three different types of beers. You can try popular offering such as Chapinero Porter and Monserrate Red Beer.
The tours are available every day of the week and where you can be collected from your hotel at 10am. It is the perfect opportunity to experience Colombian culture and taste some delicious beer. You can find the Bogota Beer Company in multiple locations in Bogota which makes it very convenient to visit.
¡No esperes más para tu próximo viaje!