So, you've decided to go for an adventure in the Amazonian city of Iquitos. Super! Iquitos is a fantastic city and a perfect getaway to immerse yourself in nature. Iquitos is uniquely secluded from the rest of the world. Iquitos is the largest city not accessible by road and only reachable by air or water. While there is lots to do during the day and night and lots to eat, one definite part of the Amazonian-Peruvian experience is everyday transportation. Getting around Iquitos is an adventure in itself. Learn everything you need to know about transportation in Iquitos and explore the 5 ways you can get to and around the city.
Getting to and from Iquitos
The easiest and most popular option to travel to and from Iquitos is by plane to the Francisco Secada Vignetta Airport, for a relatively cheap price. This is the best option for time-constrained flights. If you have more leisurely time of your hands, you can also opt for the more adventurous option and take and travel by boat down the river for 2 and a half days or up the river for 4 days. The typical starting points to embark on a boat down the river are Yurimaguas and Pucallpa, and there are plenty of boat providers that you can check out online. The journey down the river is a calm one punctuated by dolphin, parrots, macaws and stunning sunsets. The boat will usually stop at a few local villages along the way, which is a great opportunity to witness local culture. The journey is a great opportunity to reflect on thoughts or spend quality time with your significant other in the midst of a natural moving landscape. This experience might not be for everyone; for people who are more conscious on time during their trip, or those who can't wait to get to Iquitos to embark in their adventure, travelling by air is at highly accessible prices with a wide range of options.
Getting Around in the City
Worry not… Iquitos might be secluded from the external world, but it is actually very well equipped with every transportation available to make connection easy and fun within the boundaries of the city. Explore the 3 most interesting forms of transport to get around inside the city:
1. Mototaxis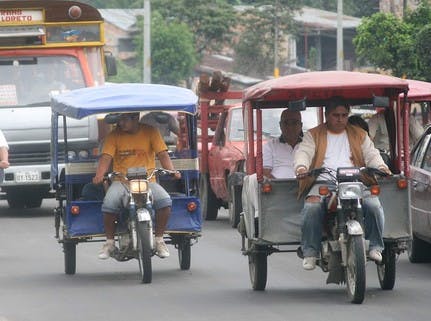 Similar to auto-rickshaws in India, "baby taxis" in Bangladesh, and tuk-tuks in Thailand, Mototaxis are an iconic and cheap form of transport in Iquitos. This form of transport is specifically popular in Iquitos which has the highest number of Mototaxis per person in the country. While this is kind of a rollercoaster safety-wise, it's a perfect hit of adrenaline mixed with convenience and fun.
2. Bus
Buses in Iquitos cost less than mototaxis, are safer, and produce less pollution. While buses are not as popular as mototaxis for locals, they're a great option of transportation. Announce to the driver your destination, and you're good to go. There are also specialised airport buses for travellers visiting the city.
3. Kayak and Canoes
There is an overwhelming number of boats, kayaks and canoes roaming the rivers in Iquitos. Those are usually best for trips to and within the Amazon jungle. You have a wide choice between self-rental or organised tours in kayaks or canoes. Another encounter of this specific form of transport is the Belen Market, highly populated by merchant canoes.
Iquitos is a nice city to take by foot. Alternatives such as taxis cars, bikes and rental cars are also highly available. However, if you are looking for an alternative way of transportation to
¡No esperes más para tu próximo viaje!