Chiclayo is a city that is in very close proximity to the airport. In just 2.5 kilometres you will reach the city centre via bus or car. The bus runs outside the arrival terminals and brings you directly to the city centre. All the hotels are near you too. If you are someone that does not want to spend a long time in your hotel and want to only use it as a base to sleep and refresh yourself from enjoying the local activities, then Viva Air recommends you stay at the Casa Andina Select, with a rating of 4.4 stars/ 5 on Google, it is a great reliable choice. It is rated as a 4- star hotel and prices start from $57USD per night.
The main square in Chiclayo is Principal Park, located on San Jose avenue. It is the epicentre of the city an is the place Viva Air recommend you start here as it is very easy to get to. You can grab a taxi or walk for 10-12 minutes to reach the park; EASY! (below is a map showing how straight-forward the walk is).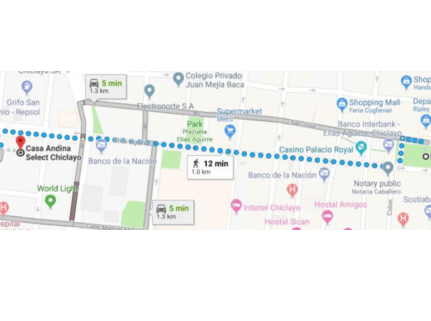 As you can see, along the walk there are supermarkets and shopping malls. This is ideal for those of you who want to experience the fresh, local foods that Chiclayo hosts. As well as in the restaurants it is guaranteed that you will be able to find fresh fruit in the stores and also other little treats that would be hard to come by anywhere else! Here at Viva, we recommend that to experience the best of local, you jump into any local supermarkets to see what Peruvian food or drink they have on offer.
Once you get to the main square in Chiclayo, everything is easily accessible from here on in. Busses run quite frequently out to the major archaeological points. All are within an hour drive. Quick and easy access to travel to as many places as possible so you can tell your friends all about them, and of course share brilliant pictures too!
Lord of Sican Museum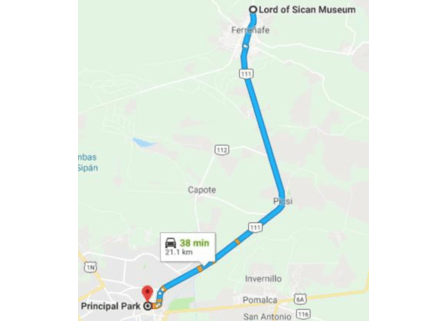 Google Rating: 4.4
On this map, you can see that it is a short trip to the Lord of Sican Museum, A highly popular location and provides great opportunities to share rememberable Instagram's pictures. It will illustrate to your followers the great choices you make and the history that you are taking in while travelling around the Lambayeque region. A taxi journey of this distance will total to around 95 Sole ($25). Local tourist operators also run buses to this location.
¡No esperes más para tu próximo viaje!